The automotive oil pressure pipes are an integral part of a vehicle's lubrication system. They play a crucial role in the transfer of oil from the oil pump to various engine components that require lubrication. The working principle of these pipes is based on the principles of fluid dynamics and the need for constant oil flow and pressure.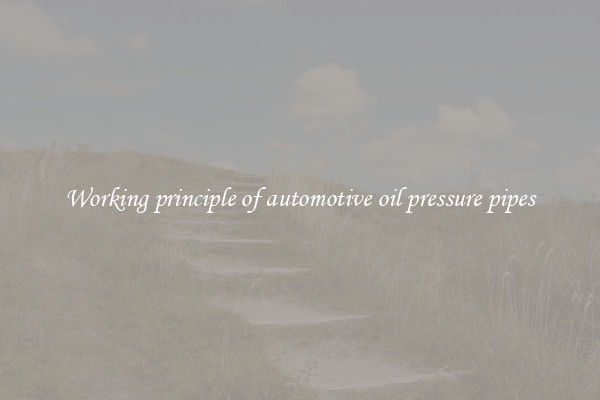 The primary function of oil pressure pipes is to ensure that the engine receives an adequate supply of oil at the right pressure. This prevents metal-to-metal contact between moving engine components, reducing friction, and extending the life of the engine. Without proper lubrication, the engine would quickly overheat and seize, leading to catastrophic failure.
To understand the working principle of automotive oil pressure pipes, one must consider the main components involved. The oil pump, located in the engine block, draws oil from the oil pan and circulates it through the engine. The oil pressure pipes connect the pump to various parts of the engine, such as the crankshaft, camshaft, and valve system.
The oil pump creates the pressure required to circulate oil effectively. It consists of a gear or rotor mechanism, which draws oil from the pan. As the gear or rotor spins, oil is forced into the pressure pipe, creating a continuous flow. The pressure generated is proportional to the speed of the engine. Therefore, the faster the engine operates, the higher the oil pressure.
The oil pressure pipes are made of durable materials, such as steel or copper, to withstand the high pressure and heat generated by the engine. They are designed with a specific diameter and length to optimize oil flow and maintain pressure throughout the engine system.
The oil pressure pipes often have fittings and connectors to ensure a secure connection between components. These fittings prevent oil leaks and maintain the integrity of the system. Any leakage in the oil pressure pipes can lead to a drop in oil pressure, which can have severe consequences for the engine's performance.
Regular maintenance and inspection of the oil pressure pipes are essential to detect any signs of wear, damage, or leaks. Any issues must be addressed promptly to prevent potential engine damage. It is also important to use high-quality oil and filters to ensure proper lubrication and minimize the accumulation of debris in the pipes.
In conclusion, the working principle of automotive oil pressure pipes is vital for the efficient operation of the vehicle's lubrication system. These pipes play a crucial role in maintaining proper oil flow and pressure to protect the engine from excessive wear and damage. Understanding their function and importance helps vehicle owners appreciate the need for regular maintenance and care of these essential components.