The working principle of a pure water system water pump is an essential aspect to understand, especially for those who work in industries or facilities that require pure water for various processes. These pumps play a crucial role in ensuring the effective and efficient distribution of pure water throughout the system.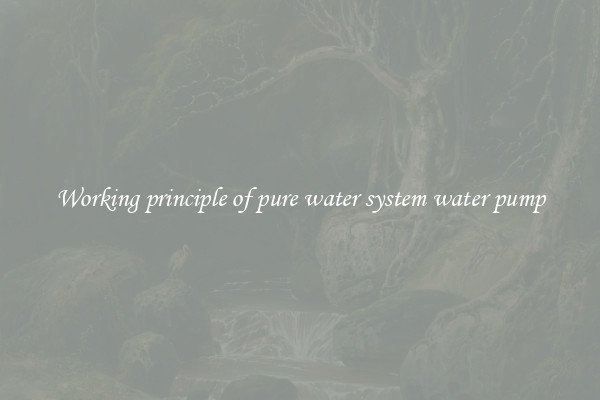 The pure water system water pump operates based on the principle of pressure and flow. Let's walk through the working principle step by step.
Firstly, the pump is powered by a motor that supplies the necessary energy to start the pumping process. Once the motor is turned on, it creates a rotational force that drives the impeller, which is the main component responsible for generating water flow.
Secondly, as the impeller rotates, it creates a centrifugal force that pushes the water outward towards the inner surface of the pump casing. The water enters the blades of the impeller through an opening, usually located at the center, known as the eye of the impeller.
Thirdly, the rotational motion of the impeller blades transfers kinetic energy to the water. The water gains momentum, and due to the centrifugal force, it moves towards the outer edge of the impeller.
Next, the water travels through an outlet located at the outer edge of the impeller. At this point, it is under high pressure due to the continuous rotation and centrifugal force created by the impeller blades. The pressure generated by the pump is crucial for the water to flow throughout the pure water system effectively.
Lastly, the high-pressure water is then released into the system through pipes or hoses connected to the pump outlet. The distribution of water is determined by the design and layout of the system, ensuring that it reaches the desired destination for various applications.
It is important to note that these pumps are specifically designed for pure water systems, meaning that they are made of materials that are compatible with pure water. This helps prevent any contaminants or impurities from entering the water during the pumping process.
In conclusion, the working principle of a pure water system water pump involves converting rotational motion into centrifugal force, which generates high pressure and flow of water. Understanding how these pumps work is crucial for ensuring the efficient and reliable distribution of pure water in various industries and facilities.