The working principle of a pipeline gyroscope is a fascinating concept that has revolutionized the world of navigation and guidance systems. This device, also known as an angular velocity sensor, uses the principles of physics and engineering to measure and detect changes in angular velocity and maintain stable positions.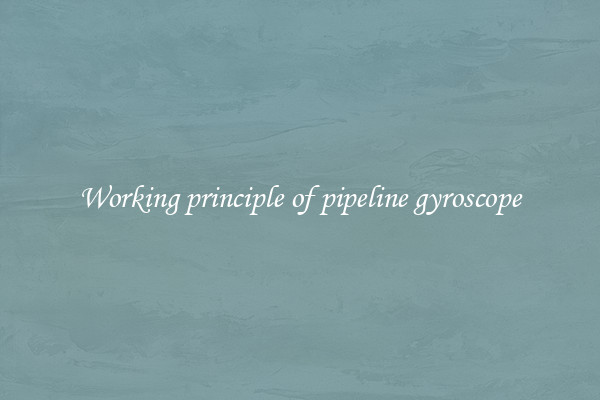 At its core, the working principle of a pipeline gyroscope relies on the property of gyroscopic stability. A gyroscope is a spinning wheel or disk that is mounted on an axis. When the wheel spins, it creates an inherent resistance to any change in its orientation. This means that if the axis is tilted, the spinning wheel will resist any movement and maintain its original orientation.
In the case of a pipeline gyroscope, the spinning wheel is typically made of a lightweight material such as aluminum or titanium and is enclosed within a protective housing. The axis is carefully aligned with the pipeline or the desired direction of motion. As the pipeline system experiences various changes in orientation, such as bending, rotating, or tilting, the gyroscope detects these changes and provides accurate measurements.
The crucial component that enables the pipeline gyroscope to detect changes in angular velocity is the Coriolis effect. According to this principle, when a body is in motion in a rotating system, an apparent force is exerted on it that is perpendicular to both its velocity and the axis of rotation. This force is known as the Coriolis force.
In a pipeline gyroscope, the spinning wheel creates a rotating reference frame. When the system experiences a change in angular velocity, the Coriolis force is induced, causing the spinning wheel to be deflected from its original position. The degree of deflection is directly proportional to the angular velocity change, allowing the gyroscope to accurately measure and quantify the rotational motion.
The measurements obtained from the pipeline gyroscope are typically processed by electronic components such as microprocessors and sensors. These components analyze the data and convert it into usable information, which can be used for various applications such as navigation systems, control systems, or even in the oil and gas industry for drilling or pipeline inspections.
Overall, the working principle of a pipeline gyroscope is a remarkable example of the application of scientific principles to real-world problems. By harnessing the Coriolis effect and gyroscopic stability, this device has enabled highly precise and accurate measurements of angular velocity, leading to advancements in various fields and industries. Whether it is guiding aircraft, navigating ships, or exploring the depths of the Earth, the pipeline gyroscope has undoubtedly made a significant impact on how we perceive and control motion.